Fresh Waxy Maize Automatic Vacuum Packing Machines
Introduction
Fresh Waxy Maize Automatic Vacuum Packing Machine is widely used in packaging of food,textile products,medical products,electronic products,hardware,etc.
It is equipped with Germany imported vacuum pump, circuit protection switch: large diameter valve, studio uses thick plate, stainless steel frame body, stiffeners welded to studio, control system uses digital pointer, heating transformer type BK1000, vacuum tube is made of silicone tube, life greatly improved.
Our company's main management products include: meat, egg products, vegetables, rice, small grains, edible fungus, fat beef, pickles, fresh waxy maize, seafood, stuffing, tea, fruit juices, frozen food, clothing, electronics, chemical products, precious metals, powder Vacuum Packaging Machine and Military Supplies Explosion-Proof Type Vacuum Packaging Machine, automatic continuous vacuum packaging machine, thermoforming stretch film vacuum packaging machine.
Product Pictures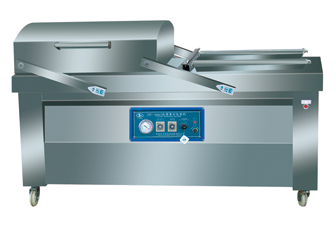 Main Components